As Director of Product Management, I headed the delivery of integrations, apps, and conference room hardware for this late-stage startup which provides SaaS-based visual collaboration solutions and interactive displays. I drove the third-party integration strategies, requirements, roadmaps, and business development—evaluating and cultivating strategic partners.
In addition to shaping a product-market fit culture and a transparent cross-functional culture, I also initiated new alpha and beta processes, Product Marketing improvements, SaaS pricing, and product strategy. I enabled means for data-driven decisions by evangelizing user analytics and metrics across teams.
Technologies: SaaS, Communications Platform-as-a-Service (CPaaS), Enterprise Messaging, Video Conferencing, Chatbots, API's, Web Clients, Mobile Clients, Desktop Clients, Server Software, and Analytics
Markets: Enterprise and SMB
Director, Product Management –
Collaboration Solutions
2017 - 2018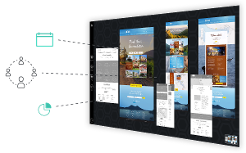 Prysm Visual Collaboration Platform
Visual Collaboration SaaS Platform
Defined third-party audio, video, and enterprise messaging integration requirements for Prysm web app, conference room displays, iPhone app, and Windows app.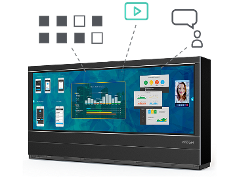 Prysm Powered Rooms
Interactive LPD and LCD Touchscreen Displays
Worked with direct reports to migrate touchscreen LCD's from OEMs to partners—simplifying customer experience while reducing operational costs. For home-grown laser phosphorous displays (LPD), supported market strategies and product marketing with sales enablement, messaging, and positioning efforts before transitioning displays to hardware product team.
© 2008 - 2019 Grace Hu-Morley